Evaluation Lab Takes to the Streets
Evaluation Lab News
Posted: Sep 25, 2018 - 12:00pm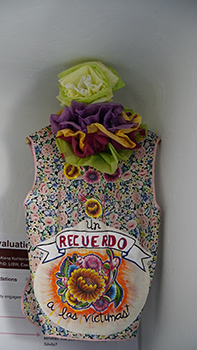 Students from the Evaluation Lab took to the streets on September 17, to visit some of the community organizations they will be partnering with over the next year.
The first stop of the day was Enlace Comunitario. Enlace is working towards transforming the lives of domestic violence (DV) victims and their communities through intervention services and prevention programs. Evaluation Lab students toured Enlace's building and then sat down with Juliann Salinas, Enlace's Associate Director, to learn about the challenges of working to end gender inequality and domestic violence.  At Enlace, DV victims become empowered as they move from participating in crisis intervention services to becoming leaders in DV prevention outreach programs.  Enlace's approach is client-led, meaning that victims are the experts in their recovery, and trauma-informed, meaning that empowerment, voice and choice are guiding principles.  The Evaluation Lab will be collaborating with Enlace on a developmental evaluation as the organization creates a new DV prevention program aimed at young men.
The second stop was PB&J Family Services. PB&J is a local nonprofit organization whose mission is to create a community supportive of vulnerable families and children in the Albuquerque metro area. PB&J provides a wide range of services for children and their parents meant to prevent child maltreatment and promote optimal child development. Associate Director Claudia Benavidez gave a tour of the South-valley location and joined retiring Executive Director (ED) Susannah Burke, and the new ED, Raymond Garcia to discuss what makes PB&J unique. For Claudia, it is the way "we walk with our clients.  We may push them, but we are always there with them." Raymond emphasized how PB&J is a "no judgment zone," and Susannah said that PB&J "is the most incredible place to learn about your own humanity and the humanity of others.
The third and final stop of the day was Centro Sávila. Centro Sávila is committed to providing mental health care in underserved communities in Albuquerque that is conscious both of the client's cultural background as well as the structural determinants of mental health and mental health care. ED Dr. Bill Wagner and Director of Operations Guiovanna Aguirre welcomed students to their bright home-like offices to talk about the importance of having Spanish-speaking mental health professionals in the community.  When counselors and clients don't share culture and language, you lose an opportunity to develop empathy by understanding the lived experience.  "And without that," Bill noted, "we don't have much as therapists." Another issue is placing mental health in a social context.  The approach of treating patients with the attitude of "what is wrong with you?" misses the more relevant question of "what happened to you?"
The Evaluation Lab is looking forward to collaborating with these organizations on evaluation projects over the next year!